Start making
social videos
Choose from hundreds of video templates, customize and create enhancing videos for your business
Discover Chant
3 easy steps
Choose
From hundreds of creative templates
Customize
With your logo, text, colors, and images
Share
On your website or social media channels
What is Chant all about?
Chant is a smart social marketing app that makes it easy to produce outstanding videos that boost your business.
We provide the concept, inspiration, and tools to create the best content for promoting your brand and communicating with clients. And all in just minutes.
New Templates
Every Week
Never run out of creative content with video templates designed and produced specifically for entrepreneurs and growing companies like you.
Easy customization
options
Add your message, logo, and colors and easily customize with our smart AI technology.
Professional tips
and recommendation
Learn from video marketing pros: get recommendations for relevant videos and tips to make each template right for your business.
Share
Anywhere
Get a link or download your video to post it on any social channel you choose, or upload it to your website.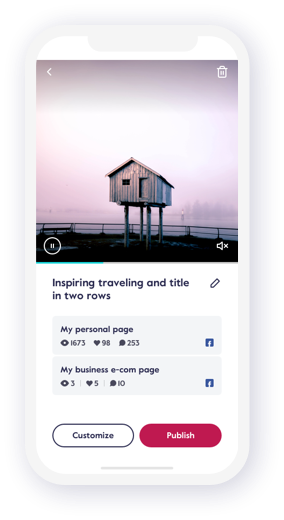 Join the community of
Chant video creators
Finally, an app that is a pleasure to use, enjoying the less complicated approach to dynamic, spectacular and a well received video message!
We've been using this app for sometime now. We find these videos had a much higher rate than many other forms of marketing content!
Most effective and efficient app thus far for video. You get your advertisement done in minutes. It's incredible.
All about us
We created Chant because we know how challenging it is to market your business and running it at the same time.
With years of experience in video marketing as the developers of the Magisto app, we wanted to make video content more accessible and easy for businesses.
We designed Chant to be a 'growth engine' in your back pocket - a one of a kind, A.I. driven, and a power tool for social marketing videos.
Partners of
Make a video
Boost your business and grow your social media community with Chant's professional video templates.